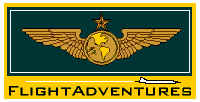 FlightAdventures Virtual Pilot Center™
Need an account? Register here.

Get the VPC OffLine Reader here!
"Extra 300L landings made easy"
flycasual

---

Certificates/Ratings/Crew Stations:

"Extra 300L landings made easy"
02-26-07, 06:37z



I just started flying the Extra and it is also my first taildragger. Sometimes on the three point landings I get the shopping cart bebop effect on landing. That's were it bobbles between tail & mains after touchdown. One way I have found to correct this is to push over to a wheel landing to stop the bobble then smoothly to full back stick. It doesn't seem right to have a hybrid three point/ wheel landing. What is the best way to land this beast and where can I go to learn more?

Thanks for your help!

Lefty
---
Terms of Use
There are currently
Copyright © 2000- FlightAdventures. All rights reserved.
Powered by DCForum