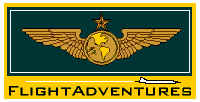 FlightAdventures Virtual Pilot Center™
Need an account? Register here.

Get the VPC OffLine Reader here!
Use the form below to search the forum
Search which forum(s)?
Searching every forum may take awhile.
Try narrowing your selection.
Search which field(s)?
Search how many days in the past?
Searching all available topics may take awhile.
Also search the archived threads?
Searching archived threads may take awhile.
---
Terms of Use
There are currently
Copyright © 2000- FlightAdventures. All rights reserved.
Powered by DCForum