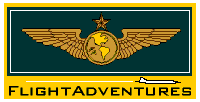 FlightAdventures Virtual Pilot Center™
Need an account? Register here.

Get the VPC OffLine Reader here!
"BAHF Douglas C54 "
reedyreed

---

Certificates/Ratings/Crew Stations:

"BAHF Douglas C54 "
12-05-08, 01:12z




Hi Folks! My first time here at the board to post & pick up on airshow news around the circuit! I fly loadmaster duties as Flightcrew member on the BAHF C54/DC4 <Spirit Of Freedom> Our C54 Skymaster has been to many airshows over the years & is a Flying Museum Exibit of Berlin Airlift History & Memorabilia. We open the museum for public access & tours on static display at airshows & special events throughout the USA. Our flightcrew is always on hand to meet & show the folks through the C54. Our other Classic Proptransport in work now at the big hangar is our Beautiful Boeing C97G STRAT. When this project is complete SHE will be another <Flying Museum Exibit> of COLD WAR History & Memorabilia. THe big STRAT is named the <Angel Of Deliverance> & hopefully will be on the airshow circuit in the near future! Stay tuned for updates & progress on this fantastic aviation project in the making. See us at www.spiritoffreedom.org for some great pics & History of the Berlin Airlift! Let us never forget the Big Lift & always Remember <Freedom is not Free> May Tempelhof Airport in Berlin REST in PEACE. Tempelhof Airport Berlin Germany was closed as of 31 Oct 2008. Thanks, JR
---
Terms of Use
There are currently
Copyright © 2000- FlightAdventures. All rights reserved.
Powered by DCForum